Contact Us
The Georgetown Admissions Ambassador Program (GAAP) office is located inside of the Office of Undergraduate Admissions. You may contact us by:
---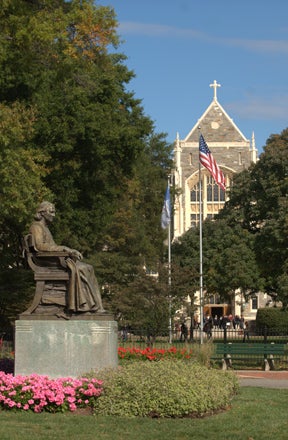 MAIL:
Georgetown Admissions Ambassador Program
Georgetown University
103 White Gravenor Hall
Washington, DC 20057-1239
FAX:
Send to (202) 687-5084 Attn: GAAP Office
---
Questions about Admissions, Campus Visits, and/or Application Status

Please contact the Office of Undergraduate Admissions directly at 202-687-3600. The Office of Undergraduate Admissions can be reached also by email at guadmiss@georgetown.edu.
Questions about Financial Aid

Please visit the website for the Office of Student Financial Services or call 202-687-4547.
International Student information

Please visit the website for the Office of Global Services or the International Applicant section of the Undergraduate Admissions Office website.
Questions about Student Life

To contact a Current Georgetown Student, find the GAAP Chair for your home state or country or contact an executive board member. Please note that GAAP receives an extremely high volume of emails, especially during the Spring Semester (January-May). We will try to respond to your message as quickly as possible.
To Contact the GAAP Executive Board members

Visit profiles of the Board Members. Board Members may be contacted by e-mail or through the GAAP Office.